Columbus Ohio Family Photographer | Rock Climbing at Vertical Adventures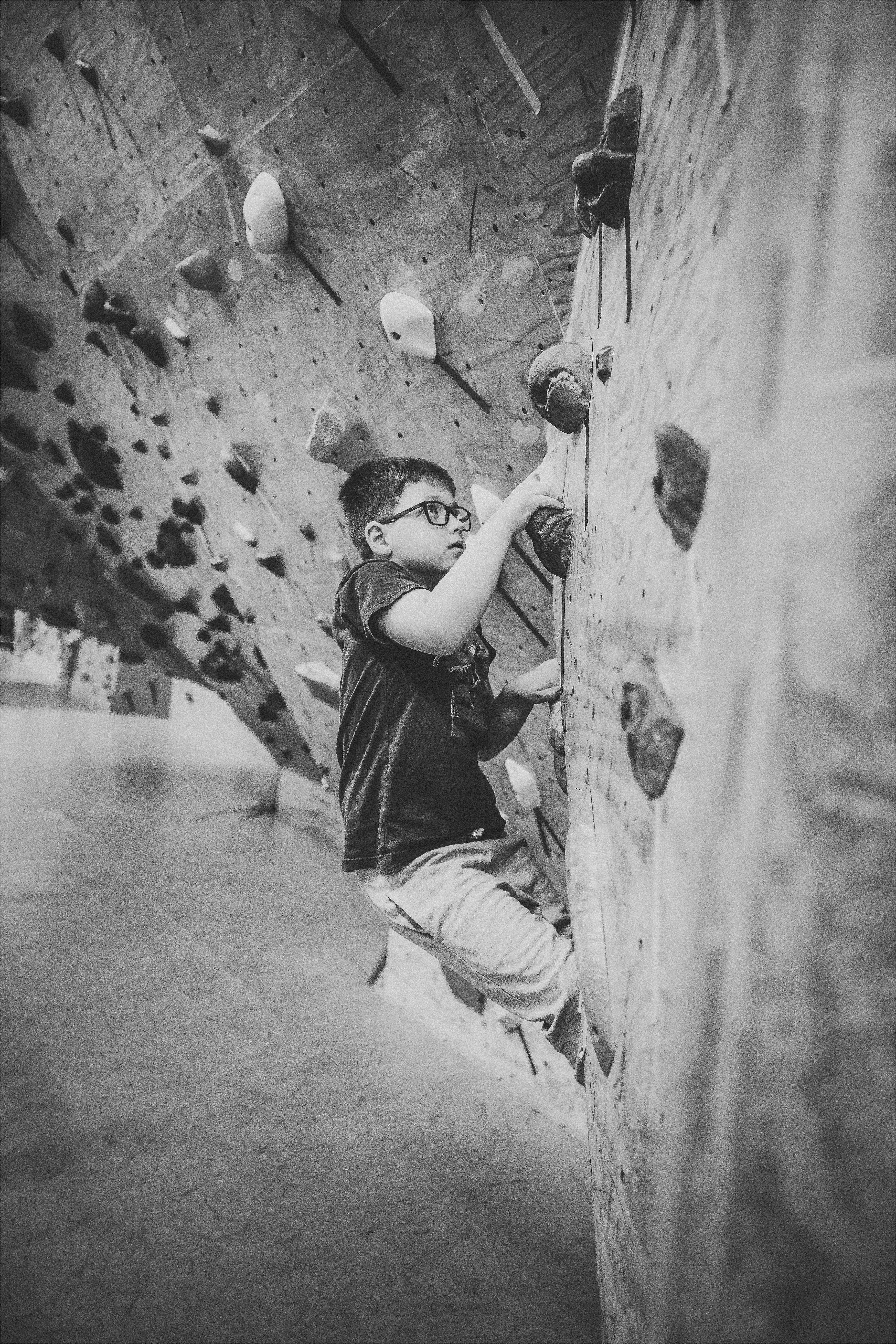 This is my big guy, Landon. He's a super cool dude who has autism. After showing numerous signs of having developmental delays since birth, starting Help Me Grow at 18 months old, he ended up with an official Autism diagnosis at age 5. He has come SO far in his 7 mighty years of life! Landon struggles with all sorts of things, but to the average person who meets him, he seems like a pretty typical 7 year-old. But when you dig a little deeper, or you get the chance to witness him in his comfort zone on a bad day/bad part of the day (i.e. after school), or see him struggling to maintain conversations with same-age peers… well, you'll start seeing those a-typical quirks come out. One of the big things Landon struggles with is sensory fears. His vestibular system has been out of wack ever since I remember. It's that drop sensation you get when you drive fast over the top of a hill. It makes his system go into panic mode. I remember how his whole body would tense up as a baby when I held him and would go down the stairs a little too quickly. He would panic when we played games that included tipping him upside down. He cried in fear in elevators. He would panic and tense up whenever we'd lift his legs to change his diaper on the changing table. The list goes on and on and paints a picture of how his body can sometimes feel totally out of control while he is grasping to find balance and comfort.
Rock climbing has been something that Landon has desperately wanted to be a part of, but the fear of being high combined with the fear of falling has made it challenging for him to fully participate. We've taken him to the rock wall since he was a wee baby. So he's grown up with climbing influences literally his whole life (check out the old school pictures below of me pregnant and of baby Landon!)
The last year and a half or so, he's participated in Vertical Adventure's Adaptive Ascents climbing event. It's a free event for kids and adults with special needs to participate in rock climbing with any adaptation they need. It is a such a cool event to be a part of; witnessing so many individuals participate and challenge themselves physically and mentally in a supportive environment. It's humbling and often leaves me teary eyed looking at everyone. These individuals are taken just as they are by a group of wonderful volunteers. They ensure that everyone is able to participate no matter what their needs. I often get choked up during these kinds of special autism events. So many things we take for granted as a parent. You want to go to the museum? Sure! You just go! But for so many families, things like waiting in line to sit on Santa's lap, or going to a crowded museum, or sitting through a regular movie are far too overwhelming for their special needs kiddos. I will always remember the time we were waiting in line to see the Easter Bunny for a sensory friendly event at Polaris Mall. The mom in front of me was crying tears of joy as she told me that her son would never ever be able to take part in something like this normally, and how thankful she was to have a special opportunity to come before the mall opened and only need to wait in line for a couple minutes. Not only are these kinds of events helpful in the support and adaptations they receive, but the camaraderie I have felt as a parent has been so impactful as well. We all just get it. If our kiddo is melting down, we aren't feeling judged. We know that these other parents have felt this same way and aren't giving me 'the eye' like "Get your kid under control!" They give me the eye like, "Girl, I've been there! Probably only just 5 minutes ago too." It's a special club that sucks to be a part of, but is comforting knowing there are other families out there that we can connect with, feel supported, feel welcomed by… who UNDERSTAND.
Soooo….. back to Landon climbing. The last Adaptive Ascents event he did they handed out these handy flyers that showed they offer adaptive climbing CLASSES for kiddos!!!! Say what?!?! I knew Landon would totally dig doing this, and I thought what better way to challenge him in a sensitive way, at his pace, than through this kind of class. Again, he loves to climb, but his sensory issues just get in the way of him being able to fully participate. In March, he started his first 9 week session rock climbing class and he was in love! The coaches are beyond amazing. My heart just about exploded with happiness when I heard Coach Jordan whisper to another coach who was taking Landon to climb, "Make sure he just let Landon go at his own pace and not to push him". Gahhh!! Jordan just knew what Landon needed. And he was right too! You just let Landon lead the pace. Sure enough each class he made *tiny* but oh so meaningful progress. He went from climbing up (maybe) 3 or 4 holds, to this past class reaching the top of the bouldering wall!!! Woo hoo!!! He seems to feel much more safe and grounded bouldering than he does with a rope. I don't know what it is about the rope but it trips up his mind. With bouldering he can climb up and down as much as he wants to. You can see him talking to himself about what he wants to do. His nervous mind giving himself a pep talk. It's usually one of the last climbs that he gets over that next hump he's been working towards. Just one more hold higher. Ahh! It's so cool to watch. I can't wait to see how he continues making progress climbing. It's been awesome for his self esteem hitting his personal goals each week. It's given him confidence when so many things he does on a day to day basis makes him feel like a failure.
We celebrate the big things, but we also celebrate the little things (that truly are BIG things at the same time). Progress is progress even when it's the tiniest of baby steps.
Here are some pictures of Landon's official first rock climbing experience. I was around 7 weeks pregnant back in the summer of 2009. Landon was the size of a bean in my belly during our climbing trip to Red River Gorge. See that teeny tiny bump? Probably more of a burrito belly at that point, but it was pretty exciting nonetheless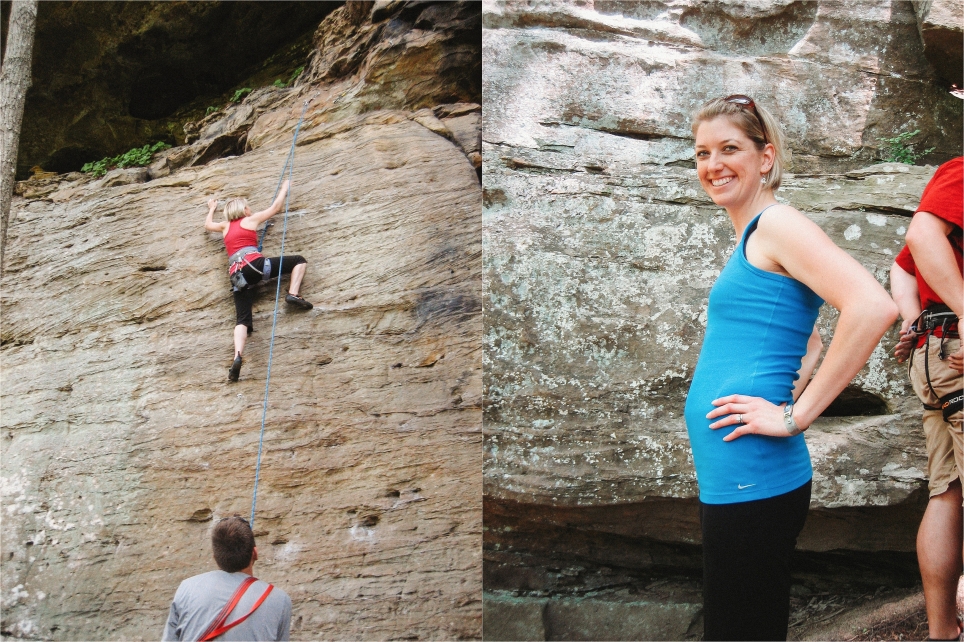 And here are some pics from one of the many outings to the rock wall downtown at the Scioto Audubon Park. Look how little he was!!!! Gahh!! Landon was 19 months old here and had just learned to walk!!
*I actually only ever edited one of these pictures way back then and never looked at them again until now! What a fun walk down memory lane for me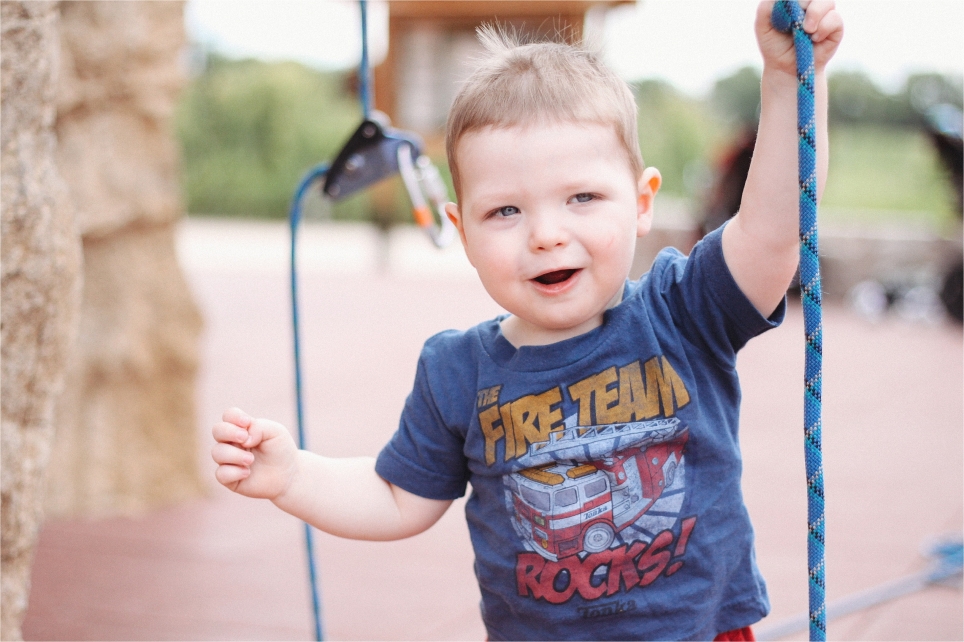 He was totally adorable right?? Oh, that kid has my heart <3
And here are some pictures I took during Landon's rock climbing class last week at Vertical Adventures. He has also been a part of Coach Julia's school project where she was testing grip/grasp strength with climbing. She did some neat tests with Landon, and I helped document her final assessment on him for her paper. I just so happened to have rented the dreamy and drool-worthy Canon 16-34L lens that day, so I was pretty stoked to test it out at the gym. I looooooove me some wide angle shots

Strong muscles!!! 
And a shot of my youngest son, Lincoln while he was waiting on his big brother during class. Poor guy has been battling SEVERE seasonal allergies and mega itchy eyes that we can't seem to get under control

Have a kiddo or someone in your life with special needs? Seriously you should check out Vertical Adventures Adaptive Climbing events and classes! They are a great way to introduce climbing in a supportive and adaptive environment! I can't speak highly enough of how awesome these experiences have been for Landon.
Leah Harms is Columbus based family and newborn photographer. She loves loves loves to take pictures of families, newborns, babies, toddlers, preschoolers, kids, pregnant bellies, and birth/hospital/Fresh 48 moments. Want to know more about Leah? Come check out –> here. If you are inserted in booking a session come on over –> here. Want to just poke around this site? Go for it!
Leah Harms Photography  | Columbus Family Photographer